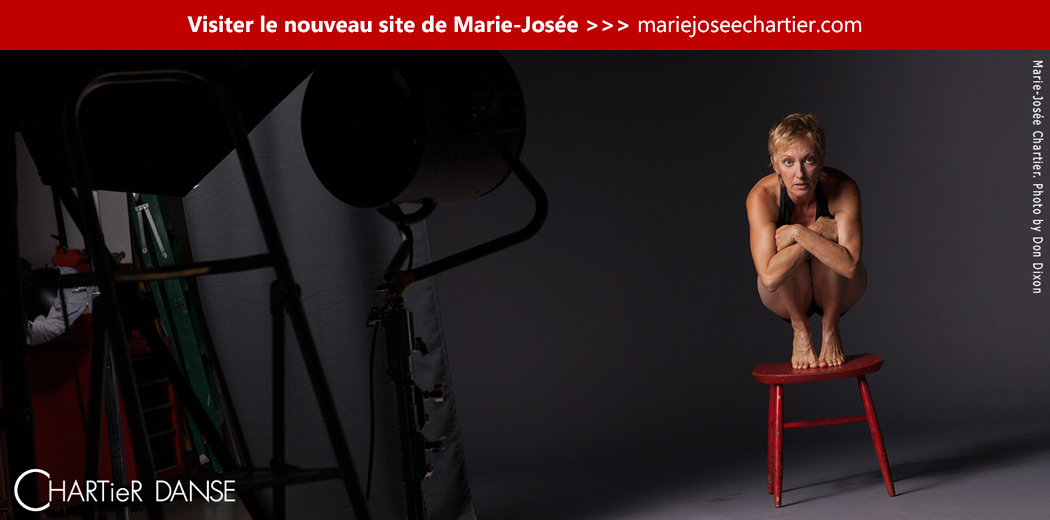 > La lourdeur des cendres

Chorégraphie : Marie-Josée Chartier
Danseurs : Heidi Strauss et Darryl Tracy
Musique : Allison Cameron A blank sheet of metal (first movement)
Costumes : Heather MacCrimmon
Lumières : concept original de Rebecca Picherak, nouveau concept de Kimberly Purtell

La Lourdeur des Cendres a été commanditée par Four Chambers dance project, à l'occasion d'un partenariat de commandites entre Darryl Tracy et Heidi Strauss qui existait entre 1998 et 2006. Cette œuvre a fait première en septembre 2003 au Buddies in Bad Times Theatre dans le cadre de « (a)round 2 », un projet auto-produit.

L'inspiration pour ce travail est venue des peintures de l'artiste visuelle Betty Goodwin, et plus précisément des « Swimmer Series » et de la peinture «  Elle a perdu son équilibre ». Grâce à cette collaboration des deux interprètes, Chartier a développé une chorégraphie en mettant l'accent sur le mouvement des bras en diagonale, sur le poids d'un corps reposant sur l'autre, et sur l'idée d'un corps comme forme brisée et lourde.





Articles de presse :

Kathleen M.Smith, The Dance Current, September 28th, 2003

...a dance of incredible physical closeness...this is a fascinating yet tough piece to watch...extremely challenging to perform...Strauss and Tracy don't waver. The work builds with incredible tension to Allison Cameron's truly remarkable score....

Paula Citron, The Globe and Mail, September 10th, 2003

...what Chartier attempts in stark physicality is always fascinating...

Glenn Sumi, NOW magazine, September 28th, 2003

…compelling…

Michael Crabb, Toronto Star, August 12th, 2011

...And then there is Marie-Josée Chartier's La Lourdeur des Cendres (The Weight of Ashes), revived from 2003 with its original, commissioning cast, Heidi Strauss and Darryl Tracy. The emotional resonances of this extraordinarily fine dance are not appliquéd. They emerge, as they should, from the weighted, angular contortions and unexpected partnering shifts of the choreography. Dance at its best speaks its own mysterious yet powerfully communicative language and Chartier is fluent in it...
---
| | | | |
| --- | --- | --- | --- |
| Chartier Danse souhaite remercier les conseils des arts suivants pour leur soutien financier par l'intermédiaire de bourse de projets et de production. | | | |