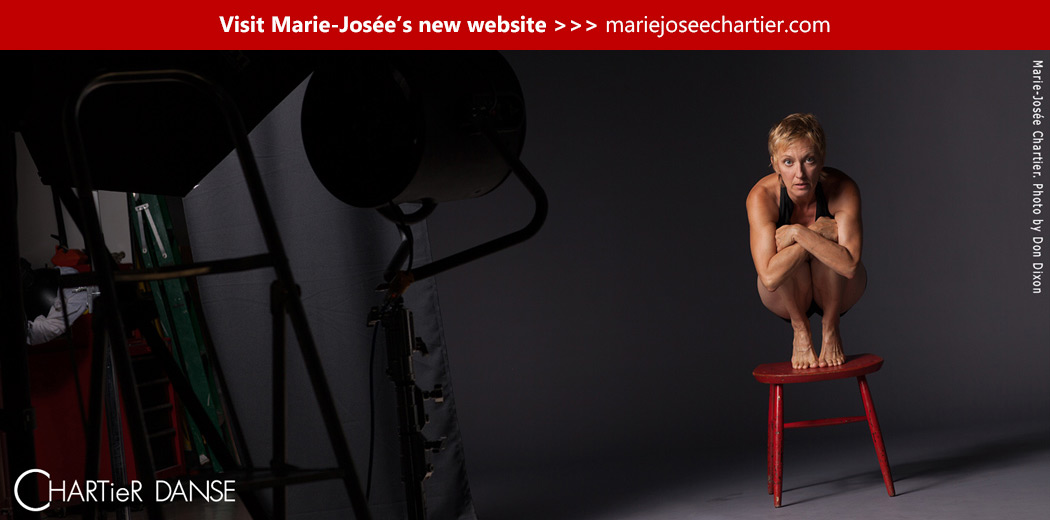 Marie-Josée Chartier

+ teacher

Photo: Bill Blackstone

Biography

A multi-faceted artist, Marie-Josée Chartier moves easily between the worlds of dance, music, opera and multi-media in the roles of choreographer, performer, director, vocalist or teacher.

Her choreographic repertoire of thirty-five works is greatly influenced by contemporary visual art, music and literature in terms of concept, composition and dynamic structure. From there, personal themes weave themselves to create works that try to decipher, expose or deconstruct the vulnerability of human beings.

These choreographic works have been presented nationally in dance series and festivals such as the Canada Dance Festival, Dancing on the Edge, New Dance Horizons, Tangente, DanceWorks, and abroad in Potsdam, Prague, Vienna, Paris, Gent, Singapore, New York, Bogotà, Mexico and Santo Domingo. Ms. Chartier has received numerous choreographic commissions from solo artists and companies notably Vestige for Toronto Dance Theatre, fifty-one pieces of silver for Dancemakers, étude pour deux mammifères for Kaeja d'Dance, La Lourdeur des Cendres for Four Chambers dance project and How to Wrestle an Angel for Old Men Dancing. Her work has been the subject of documentary films shown on national television and in diverse film festivals.

She is the recipient of numerous grants and awards notably the 2001 K.M. Hunter Artist Award, the 2015 Jacqueline Lemieux Prize, nine Dora Mavor Moore Awards nominations in categories of choreography, direction and performance, a finalist for the Muriel Sherrin Award from the Toronto Arts Foundation honoring International Achievement in Dance. She won the 2002 Dora for fifty-one pieces of silver and shared with the multi-disciplinary collective URGE two Dora awards for And by the way Miss. Since 2000, Marie-Josée Chartier has been active as a choreographer and director in music, multi-media and opera productions and collaborates regularly with Queen of Puddings Music Theatre, the Gryphon Trio, Toca Loca, Tapestry Opera and l'Ensemble Contemporain de Montréal as a resident director since 2005.

Marie-Josée Chartier continues to dance and her performing career has taken her on international and national stages as a freelance artist and with dance companies from Montreal and Toronto. She is also active as a guest teacher in major training centres and universities in Canada as well as in Latin America in the field of modern dance, movement for singers and musicians, voice exploration and improvisation. She is the co-founder of the Canadian Alliance of Dance Artists (CADA).
---
Chartier Danse would like to thank the following councils

for their support through project and production grants.